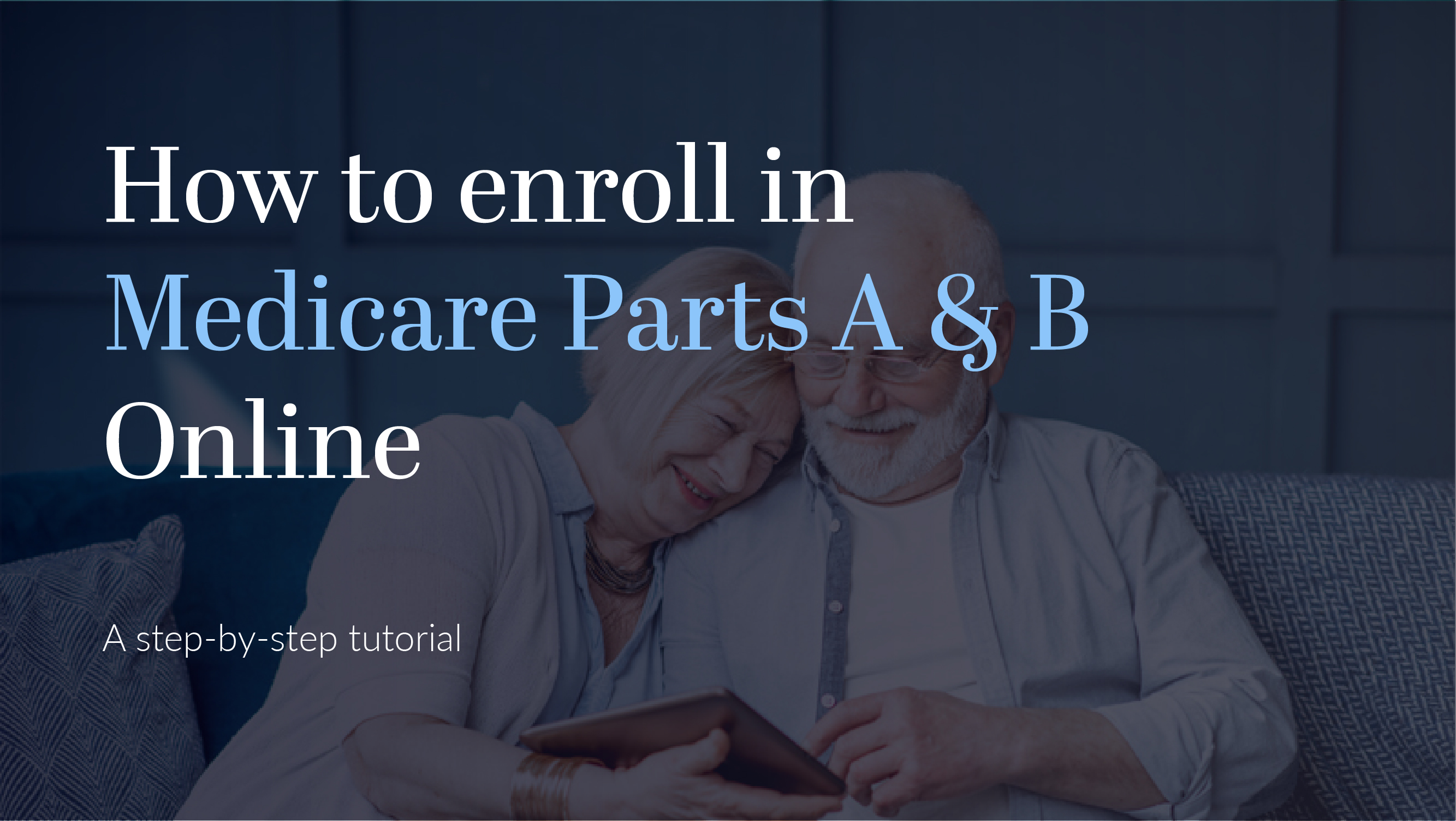 You're ready to sign up for Medicare Parts A & B.

You'd think it would be simple and easy... well... you probably wouldn't be reading this if it were.
So, we've put together this step-by-step guide on how to enroll in Parts A & B that will help make sure you enroll correctly.

We have also put together a video tutorial that you can watch here.
Steps to sign up:
SSA.gov


The first thing you're going to want to do is go to SSA.gov. This is the Social Security Administration's website you must use to sign up for both Social Security and, in our case, Medicare.
You're going to want to click on the Medicare box in the lower right


(highlighted in green below)






Apply for Medicare Only
You're going to want to scroll down the next page quite a ways until you see the section titled "How To Apply Online For Just Medicare."

In that section, click the royal blue button that says, "Apply for Medicare Only."

Terms of Service
The next screen will have the Terms of Service for using the ssa.gov site.
You'll want to check the box in the yellow field that states that you understand and agree to the Terms of Service and click the Next button.
Start a New Application
You'll now be on the screen shown below. Once here, click the "Start a New Application" button.

Who is applying?
At this point, you get to designate whether you are:

Applying for yourself
Applying for someone else.

Odds are, you are applying for yourself so click that button. However, if you are an agent applying for someone else because of a disability or you are a licensed insurance agent, you can select the "Applying for someone else" option.

We will move forward on this guide assuming you are applying for yourself.

My Social Security Account


Immediately after indicating who is applying, you'll be asked if you already have a My Social Security account. This is an account set up through ssa.gov.



If you already have an account

, you will log into that account on the next screen with a username and password. Remember, they will do a 2-factor authentication, which means they will send a code to either your phone via text or your email - so be sure to have access to your phone or email when you log in.



If you do not have an account already

, you'll need to create one.
We have a step by step article here: Read instructions
We also have a step by step video here: Watch instructions
Be sure to have a way to remember your username and password.
It can be quite difficult to reset or retrieve these through ssa.gov.
Fill out your information
The first screen will gather your information around who you are; names, birthday, Social Security number, etc.
Make sure all of your information is accurate and know that you'll get a chance to review before you submit.

The second screen will gather your contact information; address, phone number, email address, and language preferences.

Birthdate & Citizenship Details
The next screen will verify your place of birth and ask about your U.S. citizenship status.


Medicare Information
This next section is important.
The first question you will be asked is if you wish to apply for Medicare only, but not for monthly retirement cash benefits (Social Security benefits). It's a strangely worded question, so we'll clear it up.

In our experience, most people are not enrolling in both Medicare and Social Security at the same time, so the response would be 'Yes,' you are only looking to enroll in Medicare and NOT Social Security at this time. But there are instances where both are happening at the same time. If you are unsure, give us a call and we can help.

The second question will ask if you are already enrolled in Medicare under a different Social Security Number than your own.
Re-entry Number
You're almost there.
You are to the point where you are given a re-entry number so that, in the event you need to leave and come back to complete your application, you can do so.

Be sure to save your re-entry number somewhere, just in case.

Enroll in Part B?
You will now be asked if you would like to enroll in Part B.
Part B is medical coverage.

If you are currently working, or your spouse is currently working, and you are covered by an employer group health insurance plan, you are not required to enroll in Part B and you won't face a penalty should you choose not to enroll in Part B at this time.

Should you decide to enroll in Part B while employed and covered by a group health insurance plan, you will have a monthly premium for Part B and Medicare will be secondary coverage to your group plan anyway.

If you are not covered by a group health insurance plan through an employer (your employer or your spouse's employer) and you decide not to enroll in Part B when you qualify for Medicare, you will face penalties that will last the rest of your life.

Do not hesitate to call us if you have questions around what you should do here.

The other question in this section asks if you are receiving Medicaid.
Answer according to your situation.
Group Health Plan
Related to the previous screen, you will be asked if you are covered by a Group Health Plan.

Remarks - Important
This page is for remarks and it is where you can request your Medicare effective date (the date when your Medicare coverage will begin).

If you are enrolling 90 days before you retire, which is when we recommend you start this process, you will need to put in a Medicare effective date that is no earlier than when you qualify for Medicare (your 65th birthday month).

Verify Your Information & E-Sign
You are now presented with a page that shows all the information you've entered to your Medicare Application. Review this carefully.

Once you feel everything is correct, click the box that is your acknowledgement to electronically sign and enroll in Medicare. You will not be able to change the information you've put in once you click this box and submit.

You Made It!
Now Save It!
15 steps later, and you're finally done!
You are now on a page that has your confirmation number (save this) and gives you an opportunity to save and print your receipt. We recommend you keep a copy for your records.

What comes next?
You will receive 2 pieces of mail in the coming 2-3 weeks.
You will receive a letter from the Social Security Administration saying that your Medicare coverage has been awarded.
You will receive a letter from the Department of Health & Human Services that contains your Medicare card.
Once you have your Medicare card, you are now ready to enroll in other plans like Medicare Advantage, Medicare Supplement, and/or Part D Prescription Drug plans.